Since its creation in 1963, which was born from a idea of Jean Brialy and Gerard Fery, the Maschou Restaurant has never ceased to welcome the epicureans derived from both excellent taste and elegant manners such as those of the French. Nevertheless, the success of this establishment is inseparable from the work of Alain Viotti since his arrival in 1983. A man whose dedication to forging the Maschou into a real instution in Cannes, just like his son Emmanuel since 2012.
In 2016, due to their success, Emmanuel and his team created a new annexe called Le Petit Maschou, allowing them accommodate 6 to 10 additional seating places. This is Ideal if you want to spend an evening with friends to appreciate the prestigious wine cellar testifying to the rich wine list which is made available to the connoisseurs.
Today, the Maschou restaurant perpetuates the union of tradition and innovation in a warm and intimate atmosphere, thanks to the enthusiasm of Emmanuel Viotti and his team.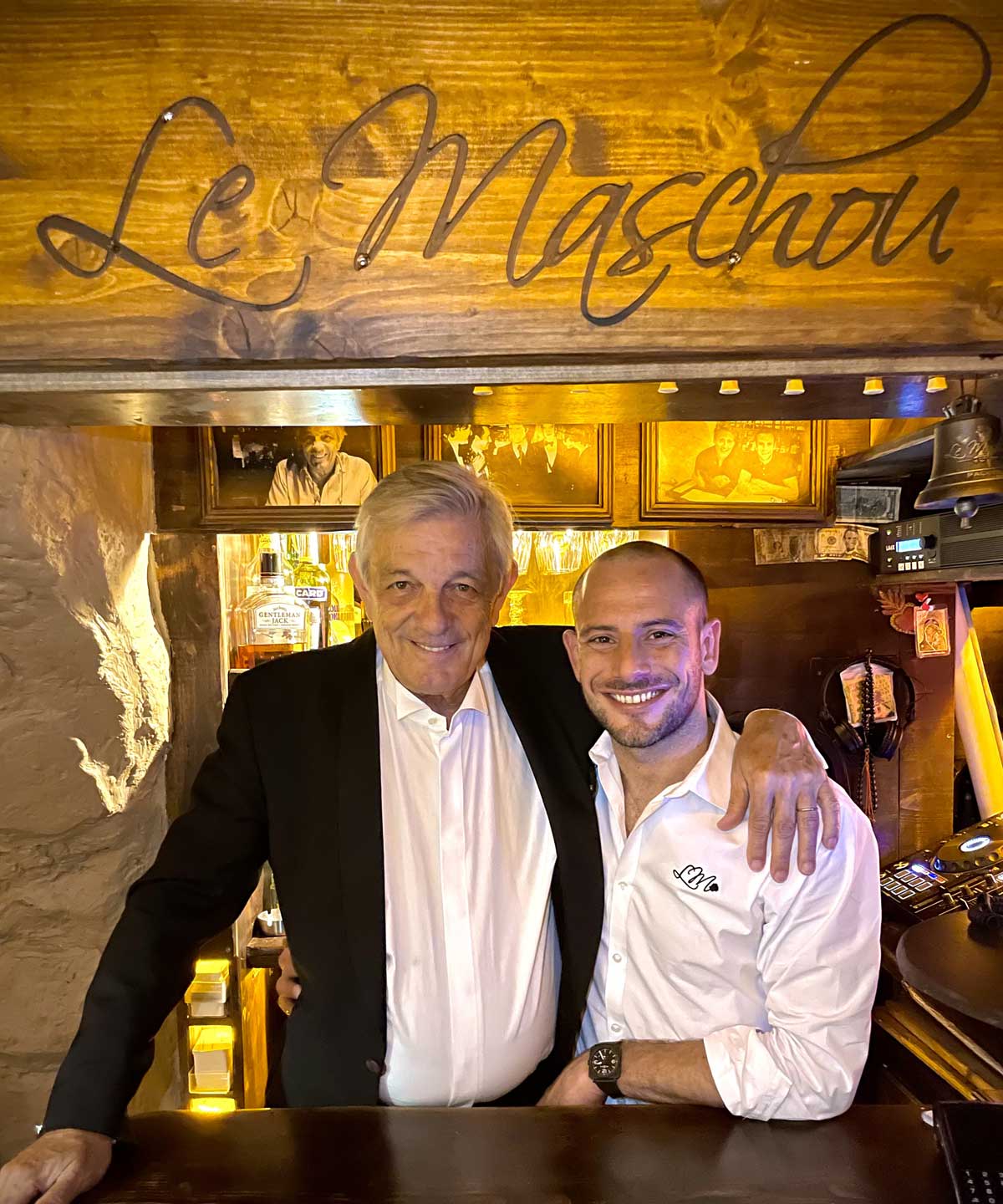 Located in the heart of Le Suquet, the Maschou restaurant has made the fireplace its main working feature as it certainly enhances the taste of the meat and fish. From the grilled food to the wood fire, around a romantic table in rustic tones, all this is aimed to delight the lovers of cooking of yesteryear.
Fresh products, beef originating from specially selected producers sharing our culture of excellence is cooked over a wooden fire. In Mashou all our dishes are homemade, we are more than just a name, Le Mashou is a mark of expertise.
Proud of its immutable formula since its opening, Le Maschou has been able to adapt its working methods in order to continue to satisfy an increasingly demanding clientele. Relished with an international reputation, the restaurant offers a unique encounter between traditional cuisine and a warm and friendly atmosphere.
Since its creation, the Maschou has implemented the values of culture of excellence and innovation, constantly searching for top quality products while remaining faithful to the unchanging price of its formula. A philosophy and address that has been passed on to us for over four generations, where we constantly but silently keep weaving bonds with our customers. Between the old walls of stones echoes the stories and legends of great men, whether regulars or travelers, forever sharing our values.
Restaurant The Maschou Cannes
Atmosphere
TThe charm of these old places are based on its peculiar history linked to many memories and anecdotes that are still wandering between the walls of the Maschou. A former fishermen's cave where anchovies were once salted and the nets untangled, Le Maschou has known how to preserve this picturesque atmosphere and deep rooted authenticity. A richly carved mirror transcending the room with exposed stones, silver candlesticks and furniture created by the best craftsmen, Emmanuel Viotti has carefully preserved the cozy and serene climate of the restaurant.
As a couple or as a group, sit at one of our light-dimmed tables and enjoy our tasty and generous grills. To end the tasteful savory evening perfectly, we offer a rose to all of our female clientele. Let yourself be enchanted by the friendly aura of the Maschou. A place that will immerse you in a climate which is both romantic and festive, adapting to the different expectations of our customers. The Maschou, an address where simplicity rhymes with pleasure!
We are open every day from 7 pm.